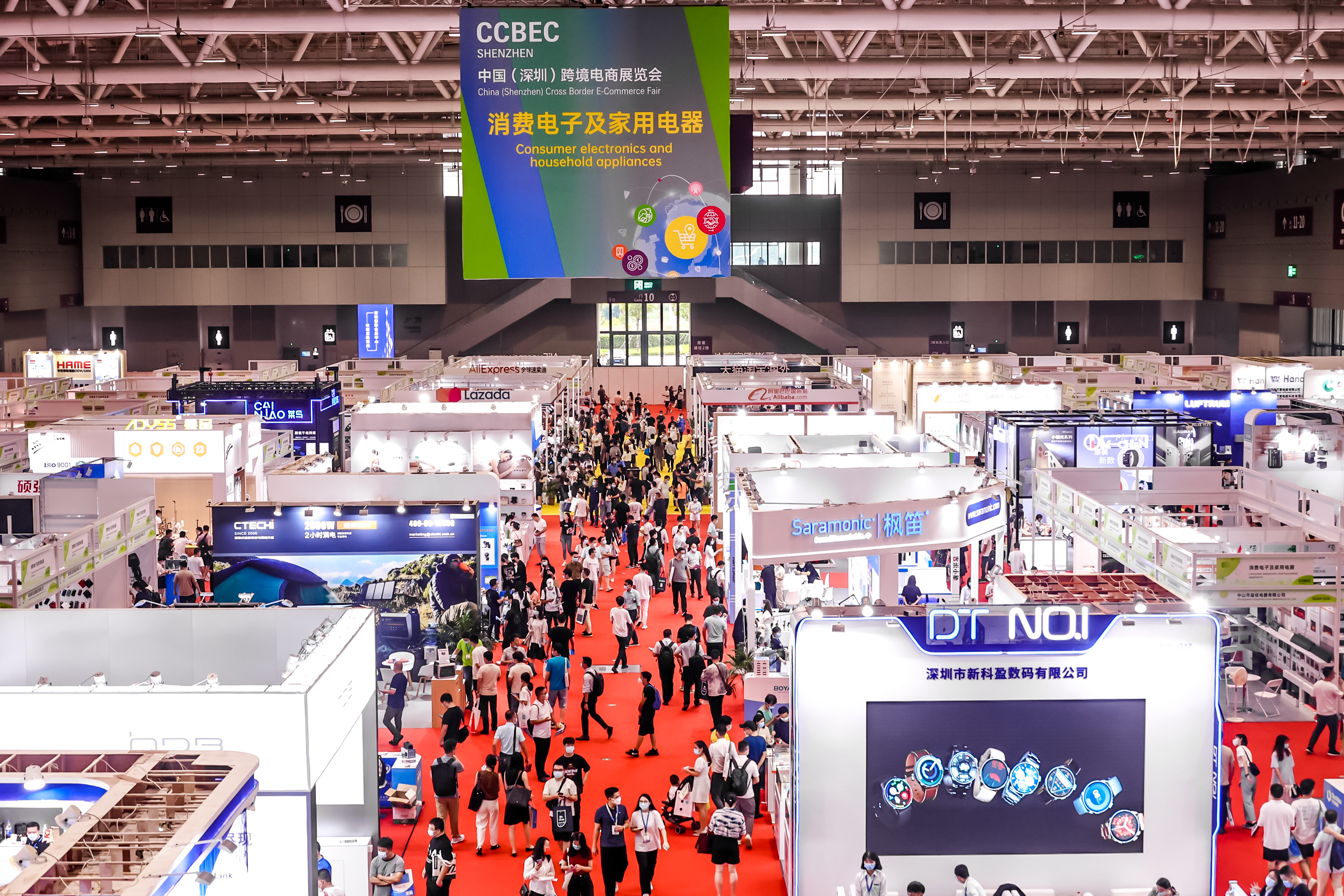 Commenting on the change, Ms Wendy Wen, Senior General Manager at Messe Frankfurt (HK) Ltd, says: "Shenzhen is the hub for the cross-border e-commerce industry, while it also enjoys strategic location advantages and substantial industry resources. Perfectly situated in Shenzhen, CCBEC attracts a diverse range of quality suppliers, leading e-commerce platforms and service providers. To help industry players align with various holiday and industry sourcing seasons around the world, we will organise spring and autumn editions starting from 2022. This step will also allow participants to keep up with new products and industry developments on a seasonal basis."
Launched successfully in 2021, the inaugural edition of CCBEC received huge support and compliments from industry partners, exhibitors and visitors, confirming the enormous potential of China's cross-border e-commerce industry as well as the show's effectiveness. Building on this success, CCBEC Spring will open its doors again in 2022, occupying 70,000 sqm of exhibition space and welcoming 1,200 exhibitors from the entire industry chain, including manufacturers and suppliers, cross-border service providers and products, as well as e-commerce platforms and media.  To allow participants to capitalise on the peak Chinese retail season in the first half of the year, CCBEC Spring has been moved to the end of March instead of April.

Benefit from favourable policies

E-commerce is a new growth driver for trade around the world and China is no exception. In the first half of 2021, China's cross-border e-commerce import and export volume reached USD 140 billion, a year-on-year increase of 28.6%.[1] All signs are pointing to cross-border e-commerce as a new driving force for overseas trade, and an important channel for business transformation.
[1] The State Council of the People's Republic of China: http://www.gov.cn/xinwen/2021-10/15/content_5642711.htm, published 15 October 2021
The tremendous prospects for the industry have been noted by the Chinese government. To promote e-commerce development, a strategic framework has been established as part of China's 14th Five-Year Plan. It will strengthen the global e-commerce ecosystem and seek international collaboration on the digital economy to support a higher level of opening up to the international market. Commenting on the positive policy, Mr Ma Jun, General Manager of China Merchants Exhibition Management (Shenzhen) Co Ltd says: "It is great news for the entire cross-border e-commerce industry. With the support from the government, the entire industry and its infrastructure will continue to develop, as more funds and talent are attracted."
"For us, as organisers of one of the largest cross-border e-commerce trade fairs in China, we will work in alignment with the policy and support the implementation of the 14th Five-Year Plan by providing a comprehensive platform for both local and overseas suppliers, service providers, e-commerce platforms, e-tailers and international brands. The spring edition will also invite experts to share their valuable experience and industry knowledge at our educational fringe programme," he adds.
In addition to the 14th Five-Year Plan, China's State Council has released guidelines on accelerating foreign trade, including boosting cross-border e-commerce supporting policies, fostering cross-border e-commerce pilot zones, supporting overseas warehouse companies and enhancing the industry's global network.  By 2025, this improved network is predicted to bolster China's international influence, with the country introducing new regulations to govern trade.  
In the face of these positive initiatives, CCBEC is poised to help industry players stay ahead of the market, as well as to support traditional overseas trading companies to digitalise. Alongside the show, a series of educational events will be organised covering five major topics: industry development, policy and regulations, marketing strategies, supporting services, investment and financing. Common pain points and industry problems will also be addressed and effective solutions will be offered.
The show will attract professional buyers to conduct sourcing and keep updated with product trends, including cross-border e-commerce platform procurement agents and sellers, cross-border e-commerce comprehensive pilot zone traders and service providers, brand owners, agents and distributors, traditional B2B import and export traders, local agents of overseas buyers, physical store retailers, supply chain service providers and industry associations.
The China (Shenzhen) Cross Border E-commerce Fair is co-organised by the China Chamber of International Commerce, China Merchants Exhibition Management (Shenzhen) Co Ltd, Messe Frankfurt (Shenzhen) Co Ltd, Beijing Talent International Exhibition Co Ltd and Shenzhen OCT Greater Bay Development Co Ltd. For more information, please visit www.cbec-shenzhen.com.

Background information on The China Chamber of International Commerce
The China Chamber of International Commerce, or CCOIC, was established in 1988 with the approval of the State Council of the People's Republic of China. Affiliated with the China Council for the Promotion of International Trade (CCPIT), the CCOIC is a nationwide chamber of commerce comprised of enterprises, industry groups and other business organizations that are engaged in international commercial activities in China. The CCOIC participates in the work of the International Chamber of Commerce (ICC) on behalf of China, and uses the name of ICC China when carrying out business related to the ICC. At the end of 2020, the CCOIC had 261,000 member enterprises, including most central state-owned enterprises, national financial institutions, a large number of well-known private enterprises and foreign-funded companies. The CCOIC has become one of the most influential business associations in China.
www.ccoic.cn
Background information on China Merchants Exhibition Management (Shenzhen) Co Ltd
China Merchants Exhibition Management (Shenzhen) Co Ltd is a dedicated exhibition management company under China Merchants Shekou Holdings Co Ltd, a central state-owned enterprise (stock code: 001979, and ranking 348th on Forbes' Global 2000). The Company mainly engages in exhibition-related business activities, including venue planning and construction, venue operations and exhibition organisation.
Background information on Messe Frankfurt
The Messe Frankfurt Group is the world's largest trade fair, congress and event organiser with its own exhibition grounds. The Group employs approximately 2,450 people at its headquarters in Frankfurt am Main and in 29 subsidiaries around the world. The company generated annual sales of approximately €257 million in 2020 after having recorded sales of €736 million the previous year. Even in difficult times caused by the coronavirus pandemic, we are globally networked with our industry sectors. We have close ties with our industry sectors and serve our customers' business interests efficiently within the framework of our Fairs & Events, Locations and Services business fields. One of the Group's key USPs is its closely knit global sales network, which extends throughout the world. Our comprehensive range of services – both onsite and online – ensures that customers worldwide enjoy consistently high quality and flexibility when planning, organising and running their events. We are expanding our digital expertise with new business models. The wide range of services includes renting exhibition grounds, trade fair construction and marketing, personnel and food services. Headquartered in Frankfurt am Main, the company is owned by the City of Frankfurt (60 percent) and the State of Hesse (40 percent).
For more information, please visit our website at: www.messefrankfurt.com
Background information on Beijing Talent International Exhibition Co Ltd
Established in 1999, Beijing Talent International Exhibition Co Ltd was one of the earliest trade fair organisers in China to provide overseas exhibition services. The company is committed to providing high-quality exhibition services to foreign companies, and has maintained long-term cooperative relations with many world-renowned exhibition organisers over the past twenty years. Playing a leading role in foreign trade across a variety of industries, the company has established links with relevant industry institutions across the country. The company's exhibitions are organised in more than 30 countries and regions with over 100 projects around the world.
www.talent-expo.com
Background information on Shenzhen OCT Greater Bay Development Co Ltd
Shenzhen OCT Greater Bay Development Co Ltd belongs to the state-owned enterprise Overseas Chinese Town Holdings Company, and is a regional subsidiary of Shenzhen Overseas Chinese Town Co Ltd (abbreviation: OCT A, stock code: 000069). The company's business interests span a number of fields, including exhibition venue construction, venue operations, exhibition organising, urban renewal, cultural and tourism development, industrial upgrade and other related areas.
www.octexpo.com